Are you stuck with Outlook send/receive error 0x800ccc13 after an up-gradation to Windows 10 from Windows 8.1 or Windows 7? In this technical script, I have described all about the "sending reported error 0x800ccc13 cannot connect to the network" in Outlook. This error is an enigma arisen due to a Windows update. Go through the blog, all your queries will be resolved after reading it.

Outlook Error 0x800CCC13- An Overview
MS Outlook is the most widely used and one of the efficient email applications. Across the globe, it is used as a means of communication for various personal and business purposes. But, due to some error, the functioning of Outlook gets declined.
One such error is " Outlook Send/receive Error 0x800ccc13: Cannot Connect to The Network". Because of this error, you can not send and receive emails in Outlook. This issue is encountered only if you upgrade the version of your Windows.
Here, in this blog, I have explained the methods to resolve Outlook reporting Errors in Outlook 2016, 2013, 2010 along with the probable reason. The error is displayed on the screen with a message:

"Sending reported error (0x800CCC13): 'Cannot connect to the network. Verify your network connection or modem".

Reasons behind the occurrence of Outlook Error 0x800ccc13
Before going for solutions, you must know the reasons due to which this Outlook error occurs. Some causes have been explained below:
Virus or Malware attack- A virus attack on the system affects the entire computer. Due to this, Outlook is affected or Outlook gets down. The PST gets corrupted due to this and hence the chances of occurrence of error increases. So, it is also one of the reasons.
Outlook Add-in- A faulty Add-in can also cause the error. Remove the add-ins to fix the error.
Corrupted PST file- Sometimes, due to faulty or corrupted PST files, the functioning of Outlook gets hindered. It doesn't work normally and the error is displayed.
Hardware Problems- If there are some bad sectors in the hard drive or some damage in the hardware component, this error may arise.
Accidental shutdown- If your system gets shut down abruptly, Outlook gets closed. When you restart, it begins to throw errors like this.
Symptoms of This Outlook Error
Whenever Sending reported error – 0x800CCC13. Cannot connect to the network. Check your network connection or modem. It has symptoms such as:
Issues in sending or receiving Outlook emails.
Inaccessibility of some MS Outlook files.
Deletion of crucial tasks, contacts, calendars, notes etc.
Inability to saves changes to the Outlook PST.
Problem in opening MS Outlook.
Methods to fix Outlook error 0x800ccc13
Method 1: Use the Windows System Checker
Close the Outlook and hit a right-click on Start button.
Now, select the Command Prompt(admin) or Windows Powershell(admin) if Command Prompt is not being shown.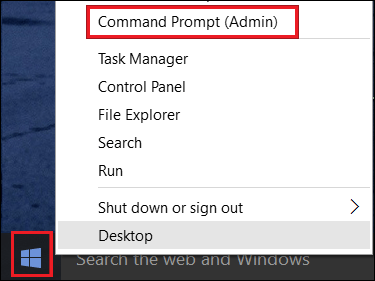 In the window of command prompt, type in sfc /scannow.
Wait for the scanning and repairing of corrupted files by Windows System Checker.
Restart the system and again open Outlook.
Method 2: Check mailbox
Keep a check on the stuck email in the Outbox. If you found any, try to delete it and check again if you are able to send the emails or not.
Method 3: Update Outlook Driver

For troubleshooting this Outlook error, you need to install the patch from the official website of Microsoft. In general, It has been perceived that if this issue is faced by a large no. of users, Microsoft provides the patches in order to fix this error in Outlook.

Method 4: Edit Registry to Fix Outlook Error Cannot Connect to The Network
After up-gradation or installation of the latest updates, there is a possibility that the registry values get changed. In such a scenario, you need to edit the registry values manually to fix sending' reported error (0x800ccc13) : 'cannot connect to the network. verify your network connection or modem.'. Navigate through the below path.

Use Window Key" + "R" ⇒ Type the text "Regedit" ⇒ Open HKEY_LOCAL_MACHINE ⇒ Microsoft Folder ⇒ Window ⇒ Current version folder ⇒ open the run folder ⇒ Outlook 2010 error 0X800CCC13 ⇒ Delete the File ⇒ Restart your PC.
Method 5: Run Outlook in Safe Mode
You can run the dialog box by using Windows Key and R together. After that, type Outlook /safe in that dialog box. If the error doesn't get resolved even after opening Outlook in safe mode, there might be some add-in making the issue. You need to follow below steps to fix this issue.
Click on the file menu in Outlook.
Now, locate the options in the list.
Go through the 'Add-ins' section.
Delete the add-ins one by one to detect the faulty add-in.
Method 6: Repair Outlook PST file using Inbox Repair Tool (ScanPST.exe)
If none of the above-mentioned manual approaches are effective to fix the error, there are high chances that your Outlook PST file has been corrupted. You need to repair it. For this, you can take the help of Microsoft inbuilt inbox repair tool i.e. scanPST.exe. It fixes the corruption in PST file by repairing it.
However, it can be used only if there is minor corruption in PST. If the PST file has been severely corrupted, scanpst.exe will not work effectively.
Method 7: Using Automated method of using professional PST Repair Tool
If you have tried all the manual methods and also used ScanPST.exe but none of them worked, you need to employ an Outlook PST Repair Software to repair the severely corrupted PST files. It is a reliable and efficient tool. After repairing your corrupted files, the Outlook send/receive error 0x800ccc13 will get automatically resolved and you will be able to send and receive the email messages again.
Bottom Line
Discussed above are possible ways that may also be happening in your case due to which you are getting Outlook Send and Receive Error 0x800CCC13 in Windows 10. However, apart from this, if you still receive an error issue then, you can use the third-party PST Repair software to resolve the Outlook email error issue. Thanks for reading this article. I hope you found it helpful.