MS Outlook is one of the most favourite email clients among the users. It has been so popular because of the interactive interface, versatility and a lot of features it provides to the users. With the time, it has marked its remarkable presence across the globe.

Although it is most widely used email application, it is also prone to errors just like other email clients. There may be many reasons behind the errors. In the blog, we will discuss particularly about Outlook error 0x800ccc1a. We'll take into account all the reasons behind its occurrence and the possible solutions to fix this particular error. The sending reported error 0x800ccc1a occurs in various versions of Outlook such as Outlook 2016, 2013, 2010, and 2007. The error appears with a display message as:
Causes of the Outlook error 0x800ccc1a
There may be following reasons behind the occurrence of Outlook Error 0x800ccc1a.
SSL (secure sockets layer): The incorrect port number for outgoing and incoming server may result this error
Improper Outlook installation: Sometimes, the improper installation of Microsoft Outlook can be the reason behind this error
Improper shutdown: In some scenario, due to abrupt shutdown of the system may result in occurrence of error 0x800ccc1a when the users starts the Outlook next time
Virus Attack: Malware or virus attack can also be the reason behind this Outlook error message
Symptoms of Outlook Error 0x800ccc1a
Window crashes on occurrence of error
PC crashes in a frequent manner with the error while running the same program
System freezes for a few seconds on a regular basis
The error is shown all the time in the dialog box
Windows becomes sluggish and slow, taking too much time to respond for inputs of mouse and keyboard
The error 0x800ccc1a can appear anytime during installation of any program, starting or closing the window, during running of any Microsoft application, installation of OS like Windows etc.
Possible solutions to resolve Outlook error 0x800ccc1a
Some manual techniques to fix this error 0x800ccc1a have been explained. Go through them.
#1 Re-configure the SSL encryption and Port number settings
You can adopt certain changes in the settings and re-configure the Outlook to fix this error. Just go through the below procedure for configuring the SSL encryption and POP/SMTP settings.
Run MS Outlook and go to Account settings by clicking on File menu.
Hit a click on Email tab under the Account settings window. Now, select the account and double-click on it to make changes.
A check email account dialog box will appear. Under this dialog box, click on More settings option.
A window prompt containing Internet email settings will be opened. Hit a click on the Advanced tab and uncheck "This server requires an encrypted connection (SSL)" box. Proceed with OK.
As an alternative, you can also make changes in port numbers of the servers if you need encryption in your connection. You need to click on checkbox of "This server requires an encrypted connection (SSL)".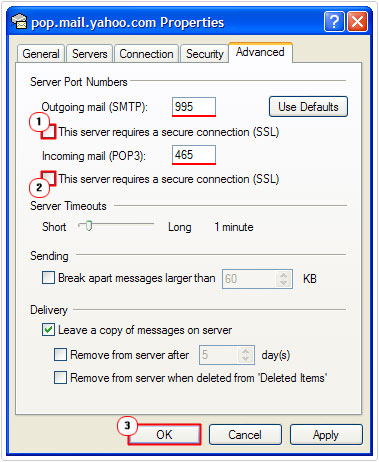 #2 Repair PST file in Outlook
Sometimes, there might be problems due to PST file corruption as a result of which users get error 0x800ccc1a when they try to send email through POP or SMTP server.
You can repair Outlook PST file using Microsoft inbuilt inbox repair tool i.e. Scanpst.exe if the corruption is minor. It is a free tool by Microsoft that helps to fix the minor corruptions such as header corruption issues in Outlook PST files by repairing it and thereby fixes the error 0x800ccc1a.
But, sometimes, the corruption in PST files is severe and can not be fixed by using inbox repair tool. At this point, you need to recover the maximum possible data from old PST file and store it to a new PST file. You can do so by using an Outlook PST Repair software.
#3 Launch Windows system File checker
Follow the below steps for doing this:
Go to Start button and open Command prompt in the search box
Hit a click on Enter while pressing CTRL+SHIFT button
A new dialog box will appear. Click Yes to proceed
Now, A new window with black background will be opened with a blinking cursor
Type in sfc /scannow and click on Enter button
System File Checker will be opened and will scan all the errors
The scanner will scan thoroughly and will try to fix the errors including error 0x800ccc1a. After this, restart the Outlook to check whether it is functioning properly or not.
Sometimes, there comes a situation when none of the methods explained above are helpful. It such a scenario, you need to adopt an Outlook PST repair tool to fix this error. It is a software tool well equipped with advanced algorithm to fix the corruption in PST and other Outlook profile.
Verdict
In the technical script, all the possible manual and automated solutions have been explained. You need to go through them as per need to troubleshoot the Outlook error 0x800ccc1a. It is a complex error and hence needs proper solution. A user needs to go through different methods if it doesn't get fixed by one method. Hope the blog is helpful.