Summary:- Do you have too many emails in Yahoo mail and need to download emails as a PDF? This article shows you how to download Yahoo Email as PDF or convert Yahoo emails and attachments to PDF. Read on to learn more about the working procedure. It also includes the best professional solution using Yahoo Backup Tool that allows users to download Yahoo mail on the computer as a PDF in bulk.

Yahoo Mail Backup- A Necessity
Yahoo Mail is a powerful search engine and free email managing solution for its users, as it allows you to manage your emails, attachments, and other crucial information. One can access and manage their mailboxes using a webmail interface, accessible using a standard Yahoo Mail. However, it shows news of all kinds is available almost instantaneously. There is still a lot of wrong information on the internet. Anyone can post anything, and as professional employees, they do not need this.
There are plenty of other reasons you or someone else wants to download all emails from Yahoo Mail. These could include the need to switch jobs and keep a record of old emails, finishing college, or you are just sick of the sheer amount of spam you receive and would like to get a fresh start. Also, users need to download Yahoo Email as PDF to access it in offline mode and want to protect mailbox data from hackers and viruses. Or, perhaps you're switching and want to keep your emails from your old account backed up if you need some important information stored in your email.
Even if that is not the case, you regularly back up your emails on the computer. By performing a few simple steps in Yahoo Mail, you can download all your emails. Hence, go for the different methods and download Yahoo mail data into PDF.
Top 3 Methods to Download Yahoo Email as PDF
Yahoo Mail is a popular email client among users and comes up with 1TB of free storage space and other prominent features like Print, Download, News, etc. Moreover, if we talk about saving multiple Yahoo emails as PDFs, you can follow the manual or professional techniques.
Method 1: Use Print Command to Download an email as a PDF
1. Head over to Yahoo Mail on your browser and sign in with your login credentials.
2. Go to the required folder email you want to save and click on the More(represented by three horizontal dots).
3. Now, select the Print option from the drop-down menu.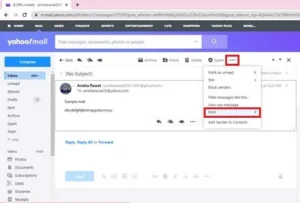 4. Once you click on the Print option, you will find the Print wizard on your screen.
5. You can view the message content on the left side and adjust the pages and layout.
6. From the Destination option, select Save as PDF and click on the Save to proceed further.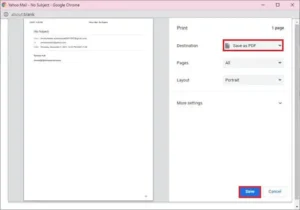 7. Finally, choose a location to save the PDF file, and click on the Save button.
Note:- It is the most straightforward method to download an email from Yahoo as PDF. However, it does not allow saving Yahoo emails in bulk. And, if you go through with that, the process becomes more time-consuming.
Method 2: Use Microsoft Word to Download Yahoo Email as PDF
You can also go with the MS Word application, as it allows users to download the pasted or created document into a PDF file. It can quickly save Yahoo emails as PDFs within a few simple steps; the only requirement is to copy the content from the email and paste it into a Word file.
Let's check out the simple steps to perform the process:
1. First of all, open the email message and copy the entire text you want to save as a PDF.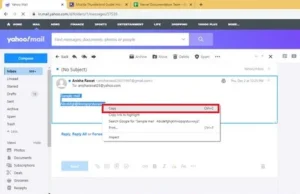 2. Once you do-so, start MS Word on your computer.
3. Go for the new document and paste this entire email data.
4. Click on the File and select the Save As option.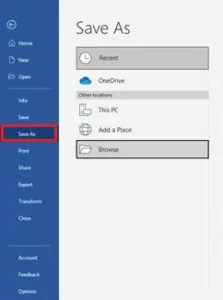 5. In the Save As a wizard, assign the file name and location.
6. After that, select PDF from the drop-down of save as type.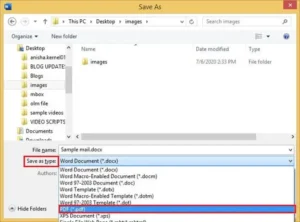 7. Click on the Save button to download Yahoo emails into PDF.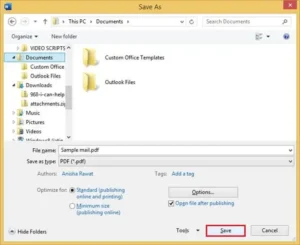 Method 3: An Expert Solution to Download all Yahoo emails into PDF
If you want to download an email from Yahoo as PDF, then go for the above manual solution. But if you are looking for a solution that allows you to download multiple emails from Yahoo mailbox folders into PDF file format, use the Yahoo Backup Tool.
The software is highly efficient and allows users to backup Yahoo emails into PDF and other 15+ file formats like DOC, PST, CSV, MBOX, HTML, etc. You can also archive Yahoo emails into other web & cloud-based email clients like Hotmail, Gmail, Office 365, IMAP, etc. Here are some other advantages that insist users go for the best solutions:
Preserve the original folder hierarchy during the Yahoo emails conversion.
Remove Duplicate Mail allows you to exclude similar emails from Yahoo folders.
Mail filter performs selective conversion of Yahoo emails based on a date range.
Option to free up the server space of the Yahoo account.
Custom folder name to assign the name of the resultant folder.
Download Yahoo emails as PDF, CSV, MBOX, EML, EMLX, MHTML, JSON, PNG, etc.
Migrate Yahoo emails into 15+ email clients like Amazon WorkMail, Zoho Mail, Yandex Mail, iCloud, etc.
Feature to download the Yahoo emails separately into a PDF file.
The software supports all the Windows versions like 11, 10, 8.1, 8, 7, etc.
Step-by-Step-Guide to Download Yahoo emails as PDF
Start the Yahoo Backup Tool as an administrator.
Sign in with the Yahoo ID and third-party app password.
Select the folders in the preview panel and click on the Next button.
Now, choose the saving format as PDF from the drop-down list.
Use the Mail filter option to perform the selective migration.
Opt for the Path to Save button to select the saving location.
Click the Convert button to download Yahoo emails as PDF files.
Here, you can also save the migration report.
Conclusion
Downloading Yahoo emails on the computer as PDF helps users overcome the chances of data loss and provide the option to access it from anywhere. After reading this blog, you can easily download your Yahoo emails into PDF either manually(single) or professionally(multiples).