Whether it is a human being or a piece of technology, nothing is everlasting and perfect. When discussing technology, Outlook doesn't require any introduction. Yes, it is one of the most popular and wide-ranging options for professionals, but as we've already said, nothing is perfect. Therefore, it also encounters issues such as Outlook error code 0x80004005, Outlook Crashes or Freezes on Opening, etc. If you're concerned after reading this, you shouldn't be because you can easily fix these types of errors either manually or with an Outlook PST recovery tool for each and every error. Let's explain each error in brief and how to fix them one at a time.
Error 1: Outlook error 0x8004010F
This error frequently occurs when you send or receive messages in Outlook, and its primary causes are encrypted Outlook(OST and PST) files or a damaged Outlook profile. Due to this error, your Outlook email may stop working.
Reasons for this error
Corrupted Outlook profile.
Mishandled firewall setting
Insufficiently established internet connection.
Encrypted OST and PST files.
Create a new profile in Outlook as a workaround.
Making a new Outlook profile will allow you to resolve this problem. To continue, adhere to the steps.
Open Outlook > File > Account Settings > Manage Profiles.

In the next wizard, select Show Profile under the profile section.

Now click on the Add button to create a new profile and assign a profile name and tap OK. <>br
Enter the necessary details, including your password, in the Auto Account Setup wizard to proceed.
Check the box for Change account settings > Next.
Once you've finished, choose the old account to delete it from and check the box that says "Always use this profile." Click OK.
Note: you can also select the "Manual Setup" and follow the procedure as instructed.
Error2: Outlook error code 0x80004005
This error might appear in Outlook as a result of a corrupted PST brought on by a malicious attack, damaged registry keys, etc.
Reasons for this error
Certain Outlook scripts are blocked by antivirus software.
Registered keys that are faulty or damaged. (Note: Registered keys are utilized to store software-related data.)
Ransomware attack on PST.
Turn off Outlook's new mail alerts as a workaround.
This error can be encountered by this method. Just follow the steps to fix it.
Open Outlook and select File > Options > Mail > Message Arrival.
Note: Uncheck "Display a Desktop Alert" here.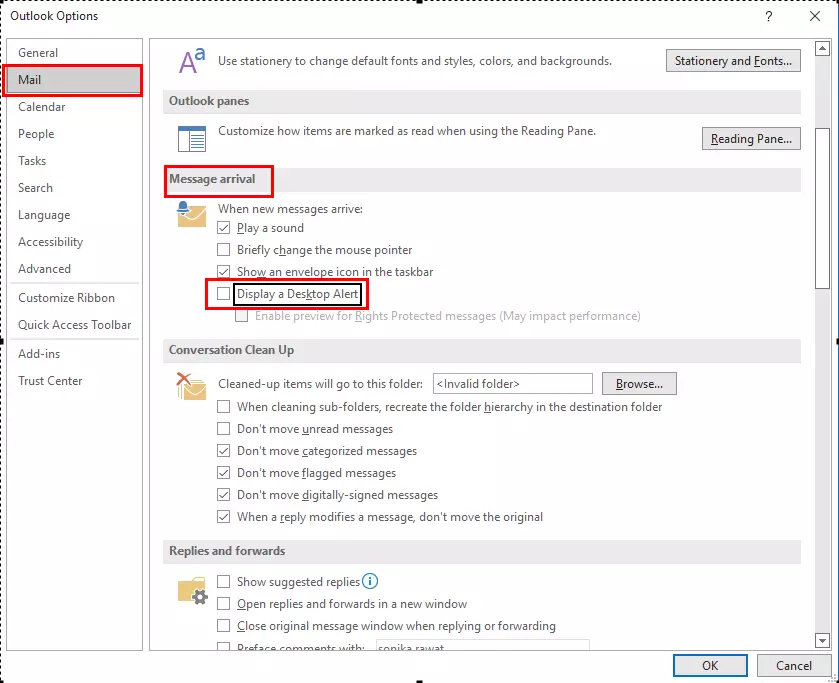 Error 3: Outlook error 0xc0000142
Attempting to run an out-of-date or damaged program is the main cause of this error. Updating the program that causes the error is one of the best ways to fix it.
Reasons for this error
Virus in windows.
Faulty graphics card drivers
Erroneous installation of window updates
Update the software as a solution.
In some instances, it has been noted that the application's improper installation is the main cause of this error. In this scenario, the user should update the program, and if the issue reappears, reinstall the updated version of that application.
Error 4: Outlook error 0x800ccc1a
This error may prevail when there is an issue in Secure Socket Layer(SSL). This might be because the POP 3 or SMTP servers were given the wrong port number. In Outlook, a user might experience issues when trying to send and open emails.
Reasons for this error
Encryption Type specified SSL.
Corrupted Outlook profile
Wrong Port Number
Antivirus
Solution: Run Windows System File Checker
Launch Command Prompt (Win + R) and proceed as directed.
Type "sfc/scannow" and hit Enter.
Next, Open the system file checker to scan all errors and will try to fix them.
Restart Outlook to ensure the error has been fixed.
Error 5: Outlook error 0x800ccc78
Users can no longer send emails but can still receive incoming messages due to this error. The cause is when an Internet service provider switches to a different port after blocking the first one.
Solution: Change Port Number
Start Outlook > File > Account settings > Account settings.
There will be a new wizard; select "Change" > "More Settings.", tap the Advanced Settings
Go to the port numbers for IMAP and SMTP and set them to 587. Once you've clicked OK, click Finish. Restart Outlook to finish it up.
Error 6: Outlook Error 0x8004210a
When this error occurs, Outlook will prompt you that it is "waiting for a response from the receiving (POP) server" on your screen. This error can be seen when sending and receiving messages.
Reasons for this error
Corrupted Outlook Profile.
Incorrect settings for the email account.
Misconfigured antivirus software.
Solution: Launch Outlook in Safe Mode
Outlook can be opened in safe mode to resolve this issue.
Open the dialog box and type Outlook.exe/safe.
Error 7: Outlook error 0x8004210B
This error happens when the remote server where your Outlook is stored opens your emails slowly. You may experience trouble as a result of this error.
The causes of this error
Corrupted Window Registry.
Corrupted Outlook Profile
Incomplete Outlook App installations.
Workaround: Uninstall antivirus
Uninstalling antivirus software will quickly solve this issue.
Open the Control Panel from the Search Taskbar.
Choose Programs here.

Proceed and select Programs & Features, Now select the antivirus and uninstall it.

Error 8: Outlook Error Loading Message
While sending an email, you might get the message "Outlook error loading message."
Solution: Reset the Outlook application
By resetting the Outlook App, you will clean the storage and cache. Follow the steps.
Go to Settings (Android Phone) > Apps & Notifications > Outlook > Storage & Cache > Clear storage / Clear Cache.
Error 9: Outlook Crashes or Freezes on Opening
Your Outlook may occasionally freeze and be unable to open, and this may be due to faulty Add-ins. To avoid unexpected Outlook crashes, you can disable them.
Solution: Disable faulty add-ins
Follow the steps to disable it.
Launch Outlook > File > Options > Add-ins >Go (present at bottom) > Disable all the faulty add-ins > OK.
Error 10: Recovering Deleted Items
When you don't want a piece of data to be available, you delete it. It may be difficult for you to recover it, but if you use Outlook, you don't need to worry about doing so.
Solution: Recover within Outlook
Open Outlook, choose the desired account (if you have more than one), and then check your trash to see if you can recover your data there.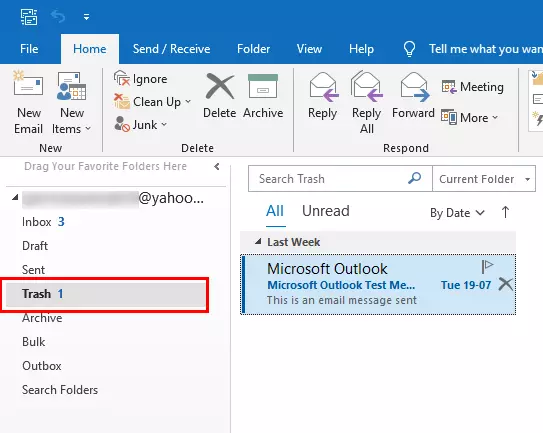 Error 11: Search Is Not Working in Outlook
Users frequently try to search in Outlook but are unable to do so. A corrupted search index may be the cause of this issue.
Solution: Repair the Safety Index
Type Indexing Options in the Start Menu
Click the Advanced Button, then Rebuild.

Error 12 :Outlook Error 0x80040900
It is among the most frequent errors in Outlook. The issue typically appears when a user sends or receives messages in Outlook. When the ports or mail server are incorrectly specified in the Outlook Account setting, this message will appear.
Causes behind this error
Windows registry corruption due to Outlook-related software.
Corruption in PST file
Outlook software installation went wrong.
Workaround: Remove your email account and then recreate it
The MS Office installation can be fixed using this technique. Follow the steps to accomplish this.
Select Control Panel > Programs > Programs & Features from the menu.
Click the Change button by performing a right-click on the Office installation.
Finally, select the option for repair.
Error 13: Outlook Error Reading Rules from the Server
This is one of the errors you frequently encounter when using Outlook. And there may be several reasons for this error. Some of them are listed below.
Send/received files are corrupted.
Corrupted POP or IMAP account
Rules run on one computer only
Solution: Reset the send/receive file setting
It's possible that the cause of this error reading rules from the server is a damaged send/receive setting file in Outlook. Steps can be taken to fix it.
Go to My Computer or This PC and go to the location C:\Users\%username%\AppData\Roaming\Microsoft\Outlook
Here Rename the file Outlook.srs to Outlook.srs.old.
Error 14: Outlook Error Code 8
It is one of the frequent errors in Outlook, and this may be reflected offline. The Proxy Server's security certificate is the source of the issue.
Causes of this error
Inappropriate installation of Outlook.
The system could be impacted by malware or a Trojan.
Accidentally, deleted Outlook data.
Use the steps below to resolve this error
Leave Outlook and publish the certificate on the network before you trust it.
Verify the certificate's installation and then install the certificate.
Delete all the necessary third-party add-ins.
Fixing all the errors automatically
In this article, we've covered some errors that can occur with Outlook and our available solutions. However, these are only temporary fixes, so they cannot guarantee a permanent solution. So, we need a single solution to fix all the Outlook errors. Here we've got an Automated Outlook PST Repair. This tool is highly compatible to restore Emails, calendars, contact, etc. from the corrupted PST file.
Why this particular option?
As we've seen, each Outlook error requires a unique approach to repair, but by using this tool, you can address every Outlook error. Here are some features of this tool.
Highly compatible to fix all Outlook errors; a single solution for every error.
It can recover every mailbox, email, and calendar from a corrupted Outlook PST.
It enables the recovery of PST files that are encrypted and password-protected.
There is no restriction on the size of PST files that must be recovered.
Outlook PST mailboxes can be exported or imported into Mac Mail.
It provides a search feature that can be used to find a specific email within any PST file.
Extremely capable of recovering embedded attachments and email.
Recovered PST files can be saved into multiple file formats like PST, EML, MBOX, etc.
Capable of recovering all the data items from a corrupted PST with both ANSI and UNICODE file formats.
Amplify the words
In this article, we've covered a variety of Outlook errors and why manual fixes are ineffective in fixing them. How an Outlook PST Recovery can be one solution for all errors. Outlook's value to us and the cost of a single error are both known. Consequently, we don't have enough time to manually fix it using only a few techniques. Therefore, we advise choosing an all-in-one fix for all errors. That comes with various user-friendly features and can troubleshoot all errors in one go.