Summary:- If you are a PDF file user, you will get options to integrate various data types like text, images, vector graphics, videos, animations, audio files, interactive fields, hyperlinks, and buttons. Thus, many other users also think that if they store their data in PDF files, it is more protected as PDF contains a password protection option. In this technical blog, we will describe the best working methods to download all emails from Gmail as PDF to Hard Drive.

Gmail is the most popular web-based email client, powered by Google. If someone talks about the best and most trustworthy email client, Gmail's name is on the top as it allows its users to send and receive email messages around the globe. It offers a storage capacity of 15 GB to its users, and at the same time, one can manage multiple accounts. Using Gmail as an email managing program, one can receive emails up to 50 megabytes in size, including attachments, while they can send emails up to 25 megabytes.
Although we all know there are two parts to a coin. Sometimes, Gmail is prone to several online threats that force users to save and download all emails from Gmail as PDF to hard drives. Now, before going directly to the solution, let's get familiar with the reasons behind the need to save Gmail email as PDFs. After that, we started downloading Gmail emails by using Gmail Backup Tool.
Why Need to Download all emails from Gmail as PDF?
As we all know, when we talk about web-based email clients, their data is prone to corruption sometimes, and there could be chances of data loss. Besides this, various other reasons lure users to download emails from Gmail in PDF format. So here are some of the significant reasons that are listed below:
Downloading the files from the web-based email client offline will be the best choice preferred by most users. Thus, due to this, one can also overcome the data loss chances.
As Gmail provides only 15 GB of free space to its users, sometimes, the storage capacity of the email clients becomes full. Therefore, it is better to export Gmail emails into PDF format instead of removing the mailbox emails.
There are several instances when the internet server becomes slow and is not working correctly. Thus, if you have a backup of your Gmail email in PDF format, you can easily open PDF files and access them from anywhere.
If you download all emails from Gmail into PDF format, you can easily share your Gmail emails through any device. Also, one can easily share Gmail mailbox data and access it offline.
All the above-listed reasons insist the users backup Gmail emails into PDF files. Now, let's go for the solutions to download Gmail emails locally. We have introduced the manual and the professional technique in the below section.
How to Download All Emails from Gmail as PDF to Hard Drive?-Manual Approach
Several instances lead to the need to backup Gmail email to PDF adobe. So if you want to download Gmail emails, then perform the step-step procedure correctly.
Log in to your Gmail account using the Gmail credentials.
Now, Open the email you want to save into PDF format.
Click on the three vertical dots from the top right side.
Select the Print option from the drop-down list.
Select the Save as PDF option in the destination section and click the Save button.
Choose the destination location for the PDF and enter the file name.
Click the Save button to download all emails from Gmail in PDF format.
After performing the process, again and again, you can quickly download all emails from Gmail into PDF format. But as the above process has some limitations, users are looking for an alternate solution for the same. Before proceeding further, firstly, let us know all the drawbacks of the above manual method.
Limitation of the Manual Approach
The above approach consumes more time and effort of the users.
Users must have the technical expertise to perform the process.
You can only download one email into a PDF at a time.
Download all Emails from Gmail as PDF Professionally
Aryson Gmail Backup Tool is a reliable and effective utility that allows users to download all the mailbox emails from Gmail into PDF and other file formats. The software downloads AOL emails to PDF, PST, MBOX, TXT, PNG, CSV, HTML, DOC DOCX, etc. On the other hand, the software also allows users to migrate Gmail emails into Yahoo Mail, Office 365, Yandex Mail, Thunderbird, and many more. Also, it comprises multiple productive features that make it the top utility.
Why Choose Us?
Allows users to backup Gmail emails with attachments into PDF format.
Efficiently backup Gmail mailbox emails into PDF, PST, CSV, MBOX, EML, HTML, GIF, etc.
It is competent enough to download all the Gmail account items like Emails, Contact, Calendar, Drives, and Photos.
Have an option to remove duplicate items from the chosen Gmail folders.
Facility to free up the Gmail account server space by downloading emails locally.
Mail Filter to separate the emails between two date ranges.
It allows users to preserve the folder structure during conversion.
Migrate Gmail emails into Office 365, Thunderbird, IMAP, Hotmail, Zoho Mail, etc.
Ideal with all the Windows versions like 11, 10, 8.1, 8, 7, Vista, XP, etc.
Step-Step Guide to Download all Emails from Gmail as PDF to Hard Drive
1. Start the Gmail Backup Software as an administrator.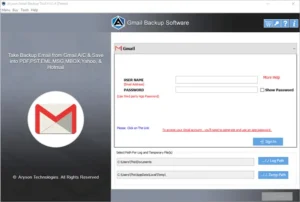 2. Sign in with the Gmail Id and third-party app password.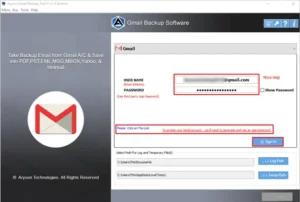 3. Mark the folders in the preview panel and click on the Next button.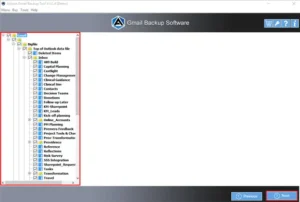 4. Choose the saving format as PDF format from the drop-down list.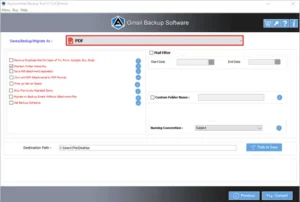 5. Remove Duplicate Emails from the chosen Gmail folders.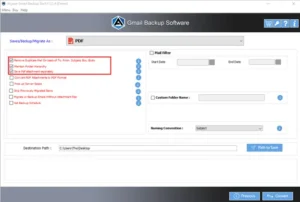 6. Mail Filter to folders Gmail mailbox folders based on a date range.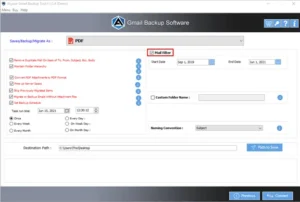 7. Select the saving path on your computer to save the output folder.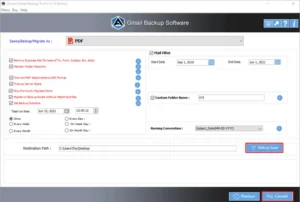 8. Click on the Convert button to download all emails from Gmail into PDF.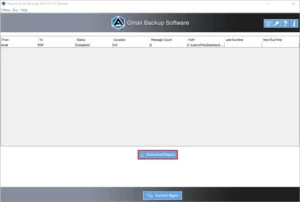 Conclusion
I hope you find this blog informative and helpful. As we all know, Gmail is the most popular email client, but there are many reasons to download all emails from Gmail as PDF to Hard Drive. The manual method will consume time & effort and allow you to save one email message at a time. Therefore, opt for a professional Gmail Backup Tool; it will enable you to download multiple emails at a time in just a few steps.