Summary: Are you also among those who wish to be an entrepreneur? If yes, then you need a website and an email client that can store your messages and assure you of securing your data with the topmost priority. So, in this blog, we will learn about some methods of moving GoDaddy email to Gmail. What manual method you can opt for, and how to ease your task of moving GoDaddy email to Gmail with GoDaddy Email Backup Tool. We know that you might have some queries related to this blog. Let's find out the answer to these.
Points to be discussed further:
What is Godaddy, and why do you need it?
What is Gmail, and why is it preferred to transfer GoDaddy email to Gmail?
Methods to migrate from GoDaddy to Gmail.
Other than the usual methods or tools, who else can help you?
What Need Arises to Transfer Business Email to Gmail?
To start entrepreneurship, you need a website that can be the first tool that helps you gain recognition in the market. A website also requires a domain registrar and a web hoster, and who hasn't heard of GoDaddy regarding domain registrars and web hosts?
We all know that GoDaddy is a web host that offers the platform to build a website. And its amazing customer bank of 21 million or larger makes it tremendous in the market. And if this platform holds this many users, then it also needs some problems to crash or any other. As a result, it is also recommended to keep a backup in any genuine client. That not only keeps its data safe but also allows you to retrieve it at the time of need, and who else can help you better than Gmail to prevent you from these risks.
It is always better to keep an alternative to prevent yourself from reaching the point of no return. Because in any case, if your data is mishandled, no one will feel the drought but you. So, it is advisable to move email from Godaddy to Gmail. Because GoDaddy holds more than 21 million accounts, On the other hand, Gmail also holds more than 1.5 billion active user accounts. So, Gmail is the perfect partner for moving GoDaddy email to Gmail.
Methods of Moving GoDaddy Email to Gmail
Although there is no direct method to move GoDaddy email to Gmail, this process is covered in two steps.
Step 1: Make changes to the POP setting in GoDaddy Email. Configure GoDaddy's email to Gmail.
Step 2: Connect your GoDaddy email account to Gmail.
Step 1: Make changes to the POP setting in GoDaddy Email
It is the first step of moving GoDaddy email to Gmail. In this step, you have to make changes to the GoDaddy email account. To move ahead, follow the below steps.
Log in to your GoDaddy account.
Navigate to the POP settings.
Enter POP.securesever.net as the incoming server POP option and the SSL value: 993.
Enter smtp.securityserver.net as the Outgoing Server (SMTP) address and the SSL value:465
Now to save details, click on the Save button.
Enter GoDaddy's email ID and password from the authorization tab.
Finally, click on the Save button.
Step 2: Connect your GoDaddy email to Gmail.
Before moving GoDaddy email to Gmail, you first need to configure it. Follow the steps for configuration.
Open Gmail and select "gear settings."
Now, go to Forwarding and POP/IMAP and turn on Enable POP for all mail and turn off IMAP before clicking Save changes.
Return to the gear menu and select Accounts, then Import.
Add another email address under Send mail as.
A new pop-up will be visible on the screen. Here, enter the GoDaddy email and any required credentials as demanded.
After entering all the required credentials, hit Add Account.
A code will be sent to the GoDaddy email address.
Enter the code to verify the account.
By following these steps, you can easily transfer business email to Gmail. As this is a manual approach and somehow technical too. But not everyone can execute it properly, and it is also a very time-consuming task.
Moving GoDaddy Email to Gmail with an Automated Approach
The GoDaddy Email Backup Tool is an all-in-one utility that can be easy to use and reduces your efforts to move email from GoDaddy to Gmail. GoDaddy email lets you import GoDaddy email to various email clients like Amazon Webmail, Thunderbird, Zoho Mail, etc., other than Gmail. Apart from that, it also converts your email into multiple file formats like PDF, PST, MBOX, EML, EMLX, and many more. Its smart filter option soothes the task of moving GoDaddy email to Gmail. You can easily operate this tool by following the steps.
Start the software and run it as an administrator.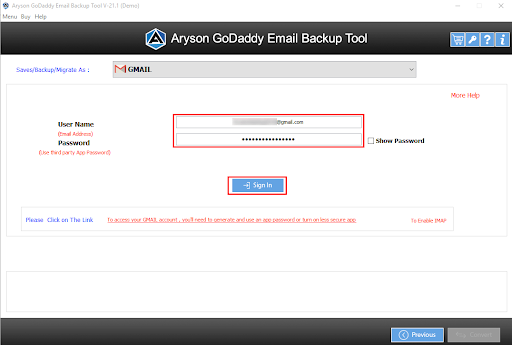 Enter the credentials as ID and password, and then sign in.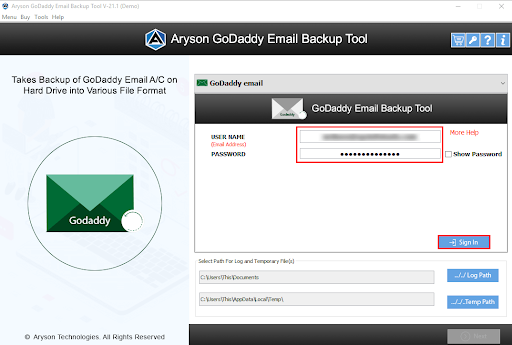 In the next wizard, a tree structure is loaded with folders from here. Check the folders and tap Next.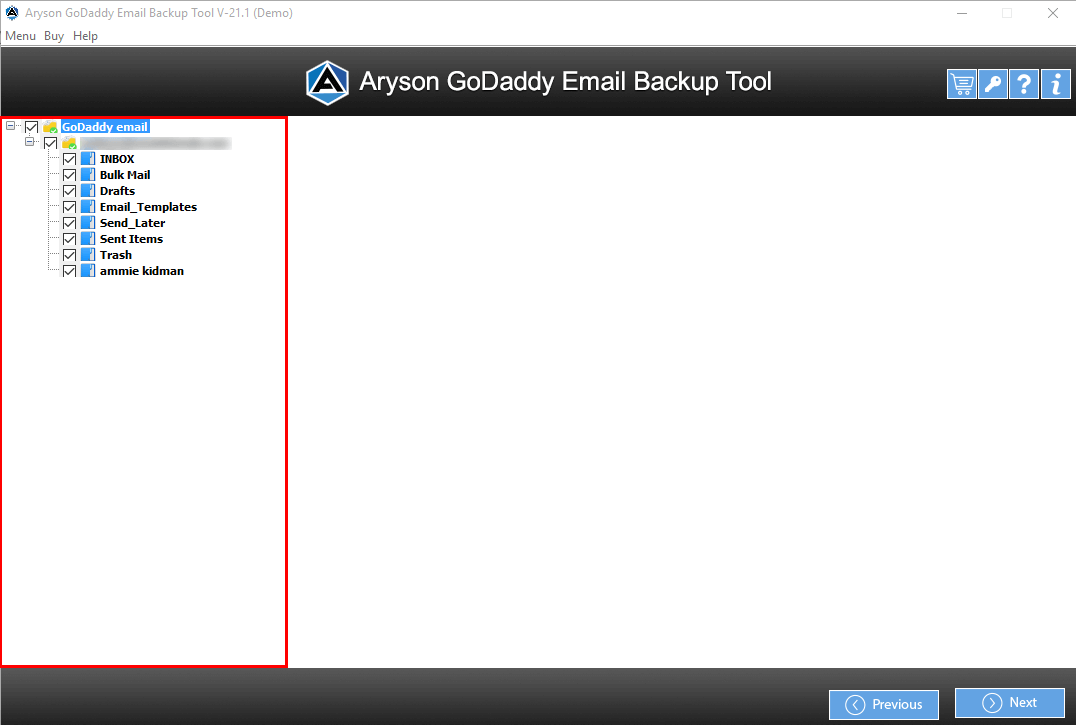 In another panel, select the email client as Gmail for your output file.
Now, enter the Gmail ID and password, and then sign in.
You can also enable features like removing duplicate emails, maintaining folder hierarchy, freeing up server space, skipping previous items, etc.
You can use the feature of Mail Filter that allows you to take a backup of your folder within a specified date.
Next, assign a name to your folder, and select the destination for it.
Now, tap on the Convert button to start your backup process.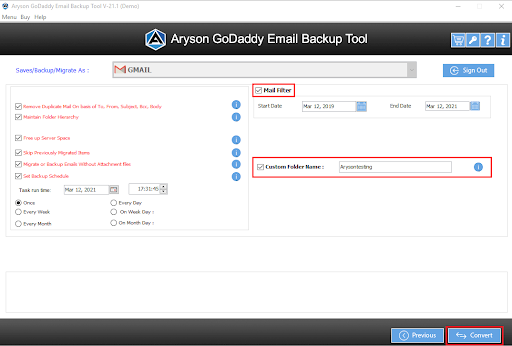 Finally, reach the opted destination to check your output folder.
Conclude Write-up
While summing up the blogs, we learned manual and technical methods for moving GoDaddy email to Gmail. Where a manual approach is so techy and requires a lot of setting, on the other hand, a technical partner does not require tech support for migrating GoDaddy email to Gmail.